January 18, 2011 at 5:31 PM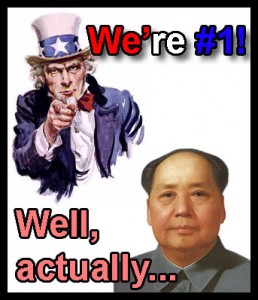 $1300.00, here we come! There were no significant economic reports out today, so that meant that we could focus on earnings! Apple shares are in focus as Chief Executive Steve Jobs is taking a third medical leave since 2004. The stock took a bit of a tumble in Frankfurt, -8 . Citigroup dropped -5.5. Standard and Poor's debt rating agency ruled out any possible US Government Debt Default, but the issue is still being debated in Congress regarding the debt ceiling.
Uncle Hu Wants YOU! Tomorrow, Chinese President Hu Jintao meets with President Obama on Beijing's currency policy. This is long overdue. The US Dollar has been fairly strong next to the Yuan making US Goods more expensive to our foreign trade. The strengthening of the Yuan may lead to better relations and healthier trade practices. Tomorrow, we look forward to Housing Starts and Permits at 7:30 AM CST. The high of the day was $1295.00 and the low $1282.75. The comfort zone or potential point of control for this market is $1290.00.
The after-hours session showed a double top on the 5 minute chart at $1296.25. The E-Mini S&P 500 must still power through $1300.00 to keep its bullish posture. Any failure could escalate some selling action. This market is long overdue for a retracement, but the market action alone will determine tomorrow's potential range.
What's the game plan for Wednesday? The bias will be to the upside and we expect the 1300 level to come along shortly. On the other hand, we are aware of what a failure to penetrate $1300.00 could do to this market.
He who is not courageous enough to take risks will accomplish nothing in life.
Muhammad Ali
Best regards,
Leslie Burton